Well Word
Well Word is a daily word search that takes 5-10 minutes to complete. The goal is to use a grid of 25 letters to form words while maximizing your score.
Inspired by the emoji sharing from Wordle, Well Word is more fun playing with friends. At the end of the game you can share your result: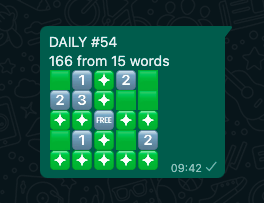 If you'd like to participate in the beta for iOS or Android, please join the Bird Cartel Discord and DM bmalicoat with your platform and the email address you sign into your phone with.